Diabetes Care: Caring for Someone with Diabetes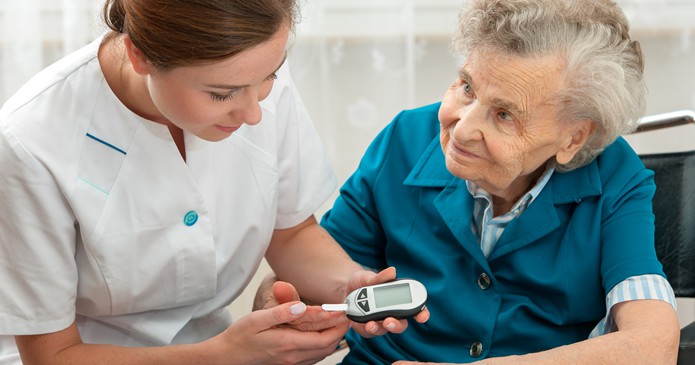 Diabetes Care: Caring for Someone with Diabetes
Updated September 19, 2022 – Diabetes care can be complex; thus, creating a diabetes care plan is essential. Diabetes mellitus is a group of diseases affecting the way the body uses glucose. No matter what type of diabetes a person has, diabetes means that there is too much glucose in the body, although the exact cause of this may differ. When there's too much glucose in the blood, it can result in serious health issues. Diabetes also increases the risk of heart disease, kidney damage, foot damage, nerve damage, and eye damage, particularly if it is not well managed.
A diabetes diagnosis affects the entire family, and if you have a loved one with diabetes, you may need to take on the role of caregiver. Supporting your loved one and helping with daily diabetes care can help them live and enjoy the healthiest life possible. If you're unsure of how you can best help and care for your loved one, here are a few tips you can use to provide the care and support they need.
How to Take Care of Diabetes
Tip #1 – Start by Learning as Much as You Can
According to Diabetes.org, the best thing you can do to become an ally and caregiver for your loved one is to learn as much as you can about the disease. Ask your loved one's physician questions about the disease. Many health care providers are happy to print out helpful patient information on diabetes to help you both better understand it and how it can be managed. Health care providers can also recommend books, support groups, and online communities that may help you learn more. High-quality, trusted websites that can offer you excellent information on the disease and how to manage it include:
American Diabetes Association
Joslin Diabetes Center
Mayo Clinic – Diabetes
Learning About Diabetes
CDC – Diabetes Home
Web MD – Diabetic Health Center
Tip #2 – Know the Difference Between Hypoglycemia and Hyperglycemia
One of the most important things you need to learn when caring for a loved one with diabetes is the difference between hypoglycemia and hyperglycemia. Either one of these problems can be very dangerous for your loved one, so you need to understand the difference and the most common symptoms of each problem.
Hypoglycemia
Hypoglycemia occurs when your loved one's glucose levels are too low. While symptoms can vary, common symptoms of hypoglycemia include:
Dizziness
Confusion
Pale skin
Headaches
Hunger
Weakness
Hyperglycemia
Hyperglycemia occurs when your love one's glucose levels are too high. Once again, the symptoms can vary from person to person, but the most common symptoms include:
Frequent urination
Fatigue
Extreme thirst
Headaches
Weight loss
Blurred vision
Both hyperglycemia and hypoglycemia have the ability to lead to serious medical problems if left untreated. Log your loved one's symptoms as well as when they occur and bring up the problem to your physician.
Get a Handle on Your Diabetic Care Routine Today!
Our caregivers can help your loved one continue to live their best life while dealing with diabetes.
Tip #3 – Help Your Loved One Make Dietary Changes
Living with diabetes requires making some dietary changes, and for some people, it can be difficult to make these changes. People with diabetes not only need to watch what they eat, they must be aware of how often and when they eat to keep blood sugar levels stable. To make dietary changes easier, consider making these changes with your loved one as a way to support them.
According to the Mayo Clinic, some foods should be cut out of your loved one's diet such saturated fats, cholesterol, sodium, and trans fats. Avoiding foods high in sugar and high carb foods is also important for controlling blood sugar.
Adding certain foods to your loved one's diet can also help manage blood sugar levels. WebMD encourages choosing colorful fruits and veggies and adding more fiber to meals. You can get fiber from veggies, fruits, whole grains, nuts, and beans. A high-fiber diet is especially helpful for people with type 2 diabetes.
Give your loved one support in making healthier food choices, and consider making meals together. You can help your loved one choose diabetic-friendly foods and it's a great way to spend some quality time with your loved one, too.
Tip #4 – Try Setting Some Small Goals Together
Beyond making dietary changes, your loved one's physician has probably recommended several other lifestyle changes to better manage the condition. Going through all these lifestyle changes can feel isolating for your loved one, so consider making these changes along with your loved one. You don't have to make huge changes overnight. Simply setting some small goals together to work towards making lifestyle changes can have a big impact.
One of the lifestyle changes needed for someone with diabetes is to start exercising regularly. You may want to set a goal together to take a walk after you eat dinner. It's a small goal that can have big results. Since your loved one needs to avoid sweets, make a small goal to only have dessert once a week instead of indulging in sweets daily. Remember, a step-by-step approach and setting small goals together makes it much easier to make those permanent lifestyle changes needed to manage diabetes effectively.
Tip #5 – Help With Medication Management
Your loved one may need to take several different medications to manage diabetes, and it's essential that these medications are taken at the right time. Make sure your loved one is able to take medications. Can they open the medication bottle or are they able to inject their own insulin? If not, you will need to help with these tasks.
Having a weekly or monthly medication calendar can help remind loved ones to take medications. Make sure you check the calendar to ensure they haven't missed any doses, since keeping up with medications is critical to keep blood sugar levels stable. Keeping medications in the same spot all the time can help keep them from missing doses.
Tip #6 – Special Care for Diabetic Feet
People with diabetes are more prone to have foot problems due to the development of nerve damage to the feet known as peripheral neuropathy. Even small cuts, blisters, or an ingrown nail can become a serious problem in someone with diabetes. Proper foot care for a loved one with diabetes should include:
Check feet every day looking for sores, blisters, or red spots.
After bathing, dry in between the toes.
Use a pumice stone or an emery board to smooth away calluses and corns gently.
Minor cuts should be cleansed with soap and water and then checked daily for healing.
Toenails should be clipped straight across.
Use a moisturizer on feet to prevent dry skin.
Avoid going barefoot and wearing sandals.
Ensure socks aren't too tight to prevent cutting off circulation.
If blisters occur, avoid popping them. Cleanse with soap and water and add some antibiotic cream.
Visit your physician if you have cuts, blisters, or other foot problems that do not heal.
Ensure your physician checks your feet regularly for any problems.
Tip #7 – Work with Your Loved One's Diabetes Care Team
If your loved one agrees, attend diabetes education classes and all doctor's appointments together. Make note of what health care providers have to say, and provide additional information to providers as necessary. Asking questions at doctor's appointments can also ensure that your loved one gets the best possible care.
Your loved one's doctor may not know they are having trouble following a healthy diet or difficulty with medication regimens. Unfortunately, patients are often too overwhelmed or even embarrassed to share this information with their physician. As a caregiver, you can advocate for your loved one by sharing information with the doctor, asking questions, and listening to the advice of your love one's diabetes care team.
Age-Specific Care Tips to Remember
Depending on the age of your loved one, the type of care and support you provide can vary. For example, a child will require far more care and support than an adult who will want to feel like they are more in control of their care. Here is a look at some age-specific care tips that can help you care for loved ones in various stages of their life.
Diabetes Care for Children
The news that your child has diabetes can be very scary and confusing. Since this is unfamiliar territory, it's easy to be caught off guard as you work to adapt to the ups and downs of diabetes. Some tips to remember when caring for a child who has diabetes include:
A diabetes diagnosis for your child will require a change in diet for the entire family
In the beginning, it may feel like a battle between high and low blood sugars
You will need to be very proactive, checking your child's blood sugars regularly, keeping up with medications, and ensuring they get the care they need while away at school
Remember that it may be tough for siblings that don't have diabetes, since you'll be spending a lot of time with your child diagnosed with diabetes. Make sure you take special time out to spend with each child.
Diabetes Care for Adolescents
Going through adolescence can be tough for any kid, but it's even more difficult for a young person dealing with diabetes. Hormones can affect blood glucose, and it can be a time when a teen is rebellious, which can result in poor control of diabetes. It's important for parents to carefully walk a fine line between allowing an adolescent some control and still providing some guidance and coaching. Helping your adolescent learn how to manage their diabetes on their own can help them ensure continued health as they become an adult.
Diabetes Care for Adults
Most adults can take control of diabetes management, although treating diabetes requires juggling stress levels, activity, diet, and medications. While adults can usually take their own medications and check their blood sugar levels regularly, sometimes they may need assistance. Offering support and gentle reminders may help them better keep up with these daily demands.
Diabetes Care for Seniors
Seniors often need a bit more helping managing their diabetes. If you have a senior loved one with diabetes, a few tips to remember include:
You may need to remind or even administer diabetic medications to seniors.
Seniors often need help following a healthy diet.
Some seniors may experience complications from diabetes that limit their ability to deal with routine daily activities like showering, dressing themselves, and other personal care tasks.
Seniors may have a difficult time exercising and you may need to come up with modified exercise plans suited to their mobility and health needs.
It's very common for seniors with diabetes to suffer from undiagnosed depression. Offering support, helping loved one focus on problem solving, and getting seniors involved in support groups can help.
While a diabetes diagnosis can seem scary, the disease can be managed with proper care and support. If you need help caring for a loved one with diabetes, call us today at (610) 269-2935 to find out how in-home care can reduce your load and help your loved one manage this disease.
Caring for Your Loved One is Our Priority
Diabetes can be managed when you have help from a caregiver. Let's talk more today about how our family caregivers can assist you!